A Guy Colwell Retrospect Show | 1990's to Present
"This artwork is outward looking. Confronting the world as it is and engaging in public discourse about it, are more important than exposing the inner self or producing beautiful spots of color to decorate walls. It is artwork that looks at the human world as we find it now in the early 21st century. It is artwork that looks at the natural world as it is, threatened and threatening. And, at its crucial heart, this artwork is an exploration of the relationship, or more precisely, the alienation that exists between these two worlds. These pictures from the early 1990's until the present should each be read as an essay about the state of life from the perspective of one big primate at this moment in time." – Guy Colwell
---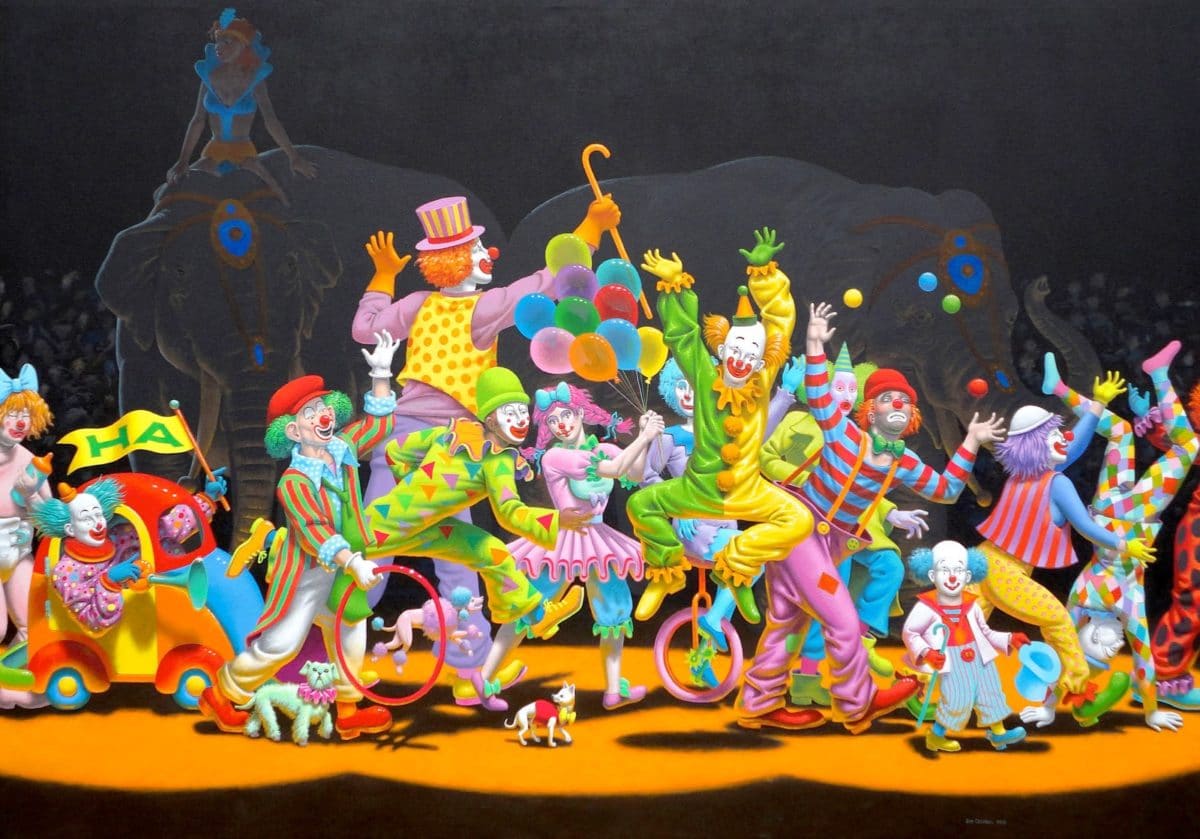 ---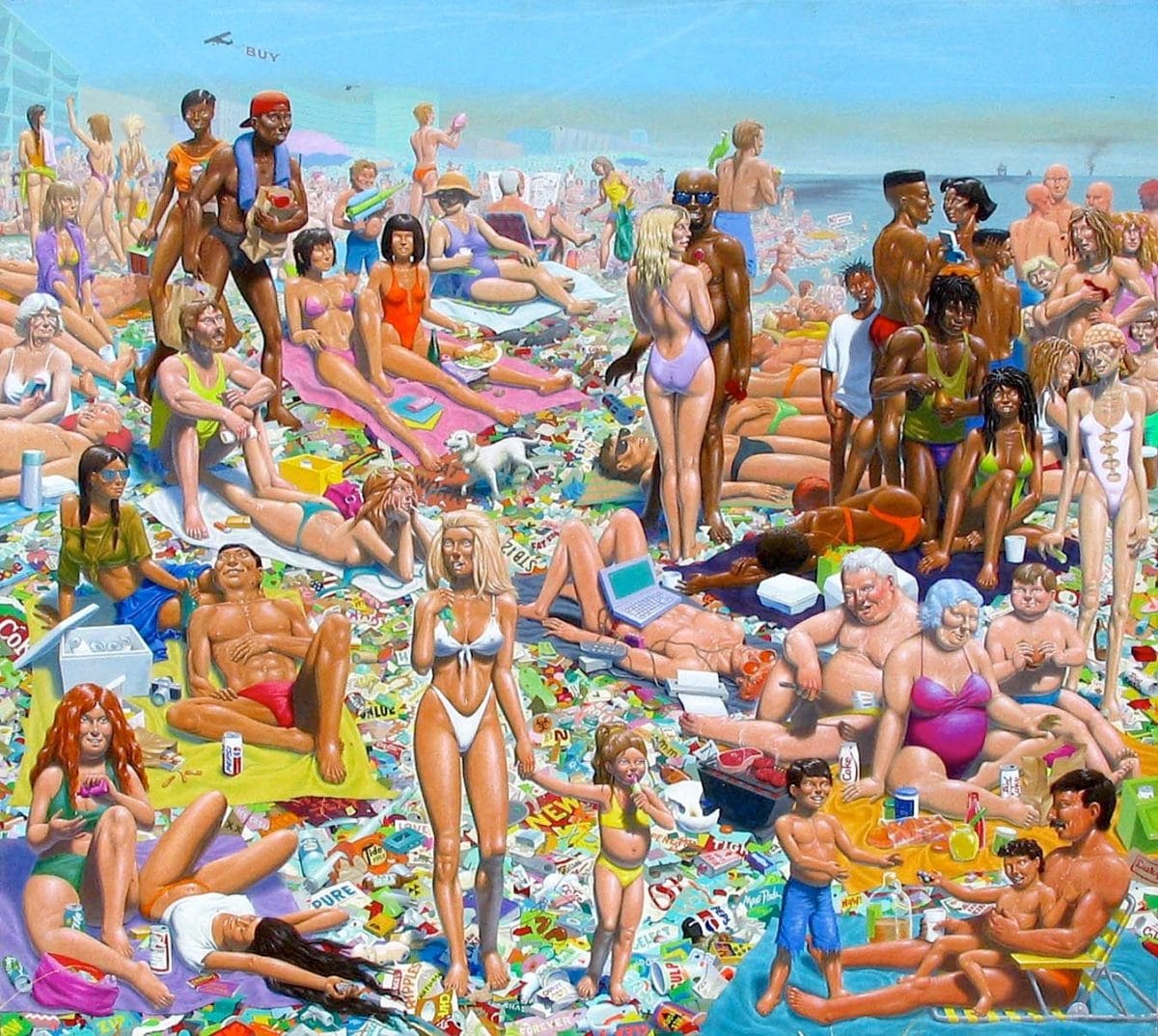 ---
"Vivid windows into an unfair world… more necessary than ever."
Sarah Burke, East Bay Express, 2016
"…conveying a sense of depth and history…."
Matt Gonzales, Juxtapoz, 2012
"…challengingly uncomfortable…with cold moral confidence…steely-serious social commentary"
Profanity Hill Blog, 2012
"…veteran aesthetic practitioner…"
Alan Bamberger, Art Business, 2011
"…penetrating and accusing…"
Elizabeth Benson Blog, 2009
---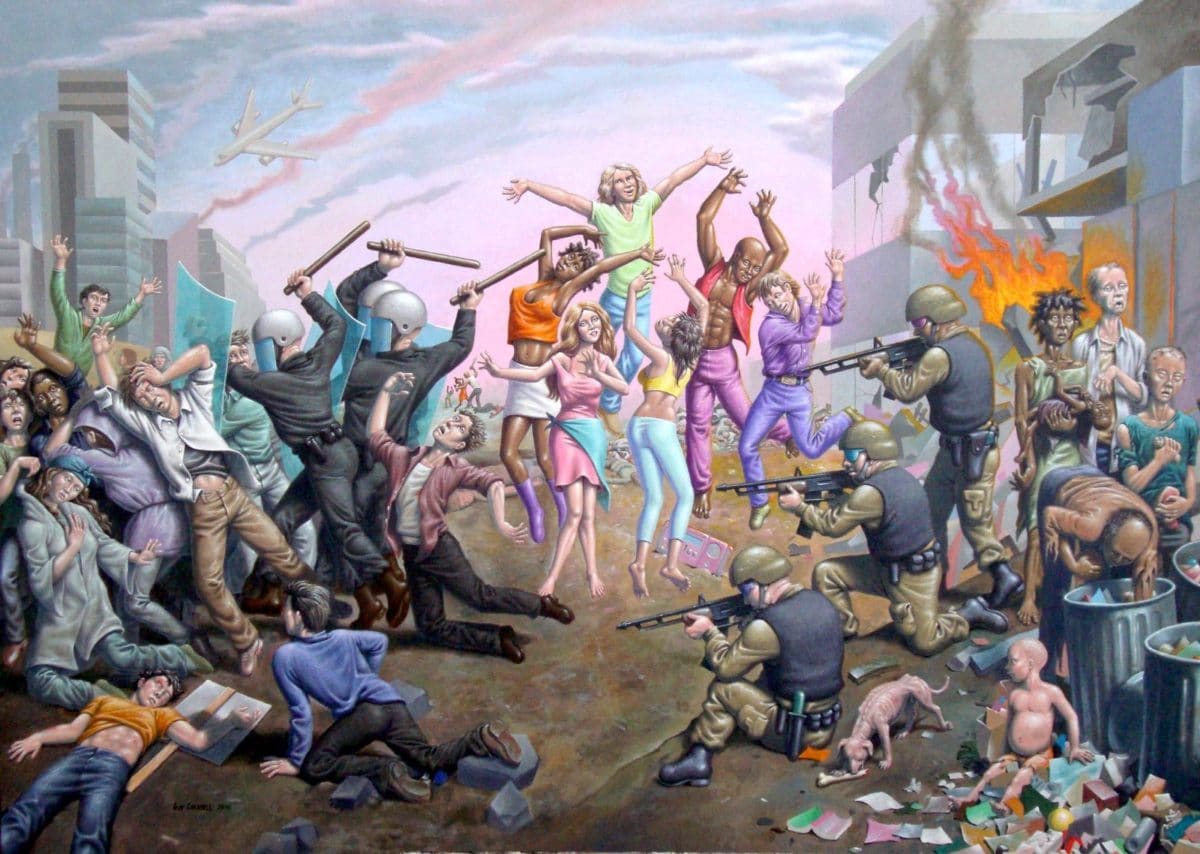 ---
"…His work is anything but shy…."
Alex Hardy, Oakland Magazine, 2007
"…densely-peopled tableau of dramatically-pregnant life scenes…"
Lou Stathis, High Times, 1991
"…an artist we should be watching as he develops…."
Al Morch, SF Examiner, 1983
"…some of the finest American art…"
Clay Geerdes, Cobblestone, 1976
"…a peoples' artist…"
Becky Hensley, San Francisco Good Times, 1971
"…there flows a kind of stoic faith in humanity rarely encountered in contemporary art…."
Ken Osborne, Madrona Poetry Journal, 1971
---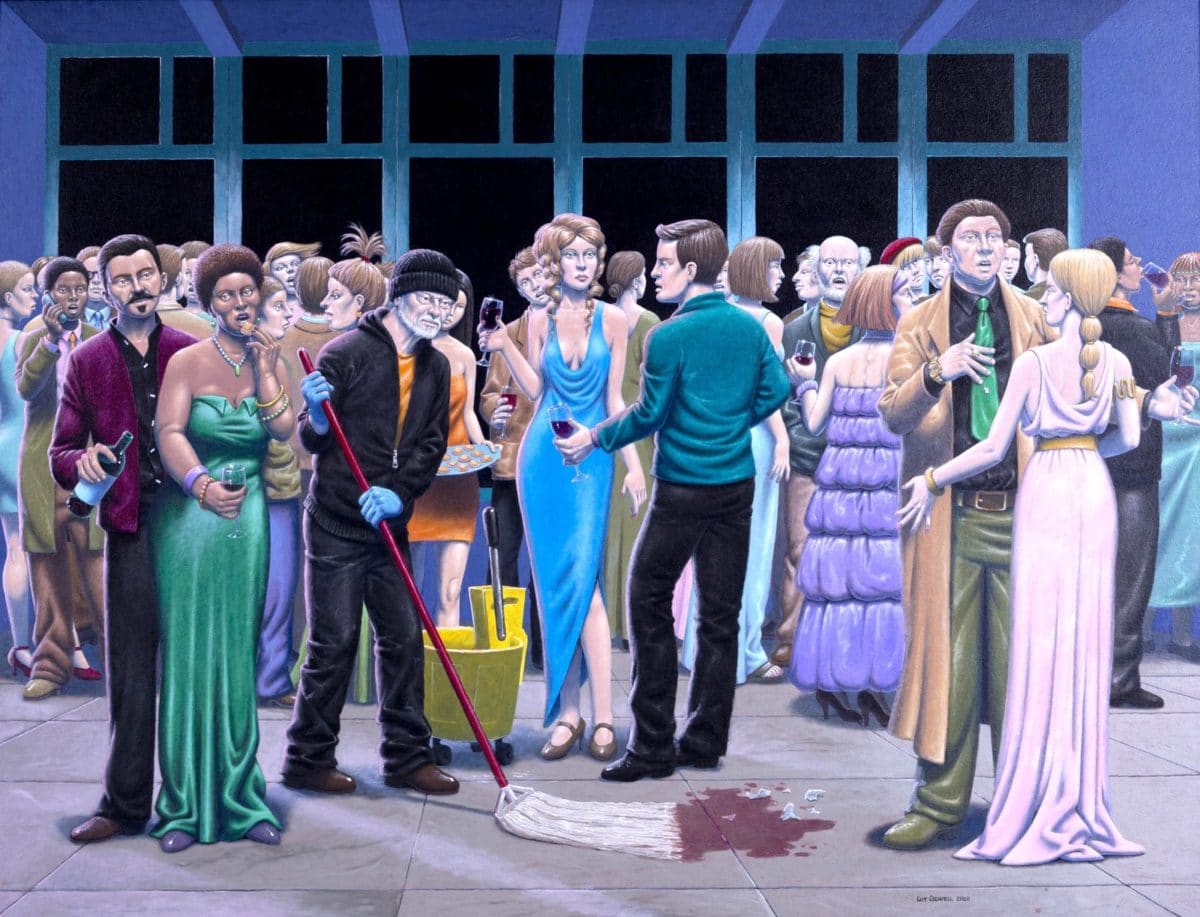 ---
Guy Colwell | A Short Autobiography
I was born in Oakland California, 1945, into a family consisting of one older brother and a widowed mother. She was a more thoroughly trained artist than I am. I was drawing and painting, even playing around with oils by the age of eight, when I started getting a lot of praise from teachers for my artwork. I did a copy of the ubiquitous George Washington portrait that especially got their attention. This set me on the path to becoming a visual artist as a way of life.
Growing up in Oakland and Berkeley, with the San Francisco museums and art scene just an F bus ride away, I had early and rich exposure to a lot of modern as well as classical art. Through Berkeley High School and two years at the California College of Arts and Crafts, I was well on my way to becoming an abstract modernist painter, into pure form and color. I worked hard at this in art school and after. I was doing large abstract canvases when I was twenty-one years old, living in Los Angeles, working as a sculptor for the Mattel toy company and getting swept up in the brilliance of the hippie peace and love revolution. I didn't see any reason to doubt that I could become a well known, even celebrated, modern artist if I kept at it. But it all changed in 1968 when I was imprisoned for refusing the Vietnam War draft. Not only was my training as a painter interrupted, because I had left college in 1965 to confront the issue, but I was unable to ever go back and finish. After 1968, without a college degree, I was primarily self taught.
I tried to keep up a psychedelic abstract thrust in my art while incarcerated but this thread got tattered then broken as other forces pushed at me to change direction. Those years of Vietnam War opposition, incarceration, counter culture turmoil, seasoned with sex, drugs and rock, were politicizing and inspiring. By the time I left prison, most of my purely abstractionist aesthetic was becoming eclipsed by a commitment to do figurative political commentary more in the tradition of American Social Realists. When I got off parole in 1970, I moved to San Francisco, bringing this new approach with me. Beginning many years of hard work, I attempted to make up for my lost art school training and bring my drawing and painting skills up to the challenge of learning from the masters who knew anatomy and paint handling far better than I ever will. It was those great artists from Renaissance times to the early 20th century who were going to show me how to paint.
---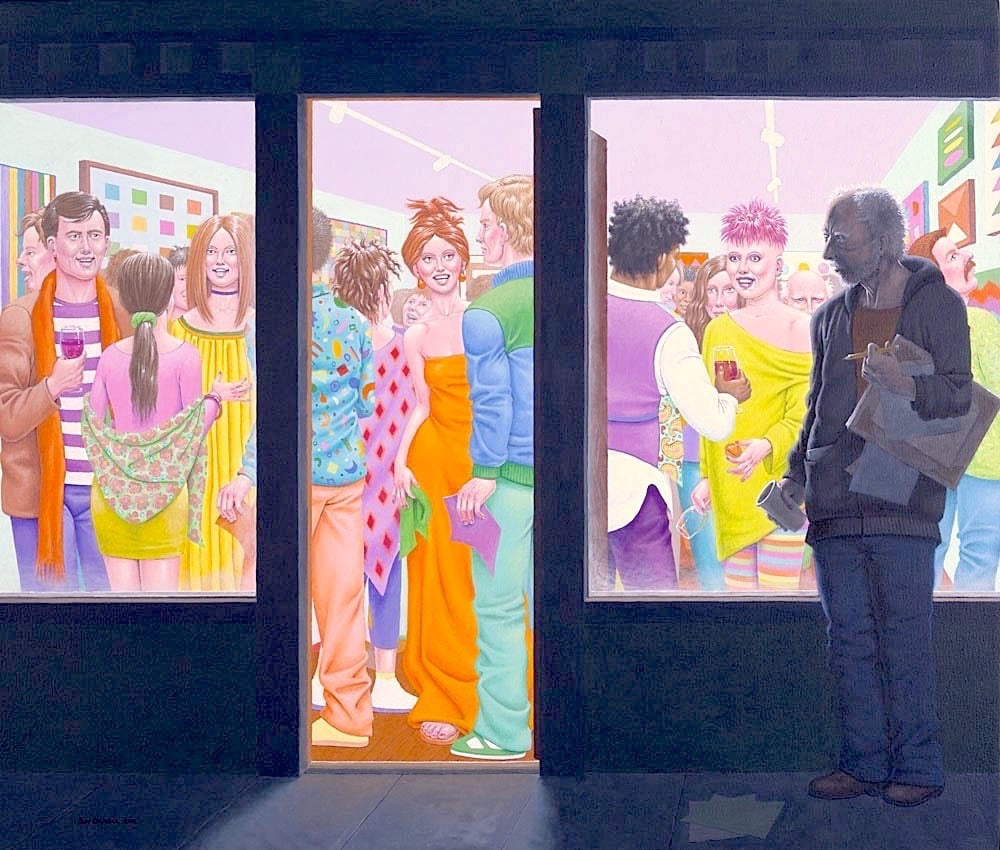 ---
I began producing more large-sized canvas paintings, but now crowded with people. One of the first was "Race Street", a Bosch-inspired nightmare of racial street war which eventually became so hard to look at that I destroyed it in an ill conceived publicity stunt. Another was "Divisadero", a more successful image that celebrated the life around me in my new San Francisco neighborhood between the Western Addition and the Haight Ashbury. This became one of my first major sales which inspired me to continue in the Social Realist vein for many years. Other notable works from this first San Francisco period include "Empty Lot", "Mandala for Post-Civilized Prepubescents", "Heat Wave" and "Horny Mandala". This last was a drug-fueled, yin-yang take on love and violence in a satirical imitation of the spiritual art that was popular then. Though intended to be tongue-in-cheek, it was an image which turned out so intense that I have sold it twice, each time having it returned to me. It is, in fact, the only painting from this period still in my possession and ultimately required a bit of revision to lessen its most violent aspects. These are just a few examples from a richly productive period in my life.
My social commentaries found a receptive audience in San Francisco due to the pervasive radicalization that was taking place as the Vietnam War ground on. I was soon showing in numerous venues including galleries, book stores, coffee houses, theaters and occasional museum group shows. What I was doing could make people talk and think. This enlarged my understanding that visual art was and is my way to join the public discourse about war, injustice, poverty, racism and environmental destruction, and can be just as persuasive and eloquent as the words of any politician, philosopher, social scientist or radical activist. Not only did I make good progress teaching myself classically influenced skills as a painter, but I also carried my messages into the medium of politically and sexually explicit comic books. My first series, Inner City Romance, did well during the 1970s when so-called Underground Comics were big. Because of comic royalties, I was able to enter into my first marriage, travel around Europe, live in Paris for a year and London for another half year. Seeing first hand for the first time the masterworks of European art, as well as all the modern art movements of the 20th century, was a great spur for me to stay on my journey.
For a while I was able to find work doing freelance courtroom sketching. At first this was part of my contribution to the underground newspaper The San Francisco Good Times, which was put out by a communal group that I became a part of between 1971-1974. This was a period of much conflict between authorities and various kinds of insurgencies that led to trials of great interest to the public. I was able to observe and draw some of them. Having assignments from San Francisco newspapers such as the Good Times, Examiner, Chronicle and Television stations such as KPIX and KTVU, I attended court appearances by Patty Hearst, Sara Jane Moore, Soledad Brothers, White Panthers, San Quentin Six, Dennis Banks and some others. It was a strange sensation to see that the master calendar judge who set the trial date for Patty Hearst was the same one I had appeared before in 1968. It didn't pan out to be an ongoing career as the revolutionary fervors of those times began to dissipate and I stopped getting calls to sketch at trials. But I considered it an important part of my development as a social realist.
With no more anti war movement, public interest in the early 1980s began to turn away from the kind of social commentary I was doing. Many people wanted to settle back into some kind of normal life with not so much protesting and feeling obliged to be in a constant fight for a better world. The Underground Comic scene also began to subside even as comic books of the Super Hero variety became bigger and bigger. My artwork no longer provided as much support as I needed, so I took employment at Rip Off Press doing all sorts of graphic art and comic book production. I stayed at this about 5 years and watched as the alternative comic scene slumped further and further into a slow decline.
The big oil painting "Plaza" was the best from this post-Europe period. I did a not-so- successful canvas inspired by the San Francisco Zoo, a complex small prison scene I called "Jail," a cluster of punks on the street titled "Young Line" and "Middle of the Block," another take on my surroundings just then. I also became clean and sober by 1981, out of concern that all the weed and wine was eroding my health and the quality of my work, and managed to stay that way ever since.
---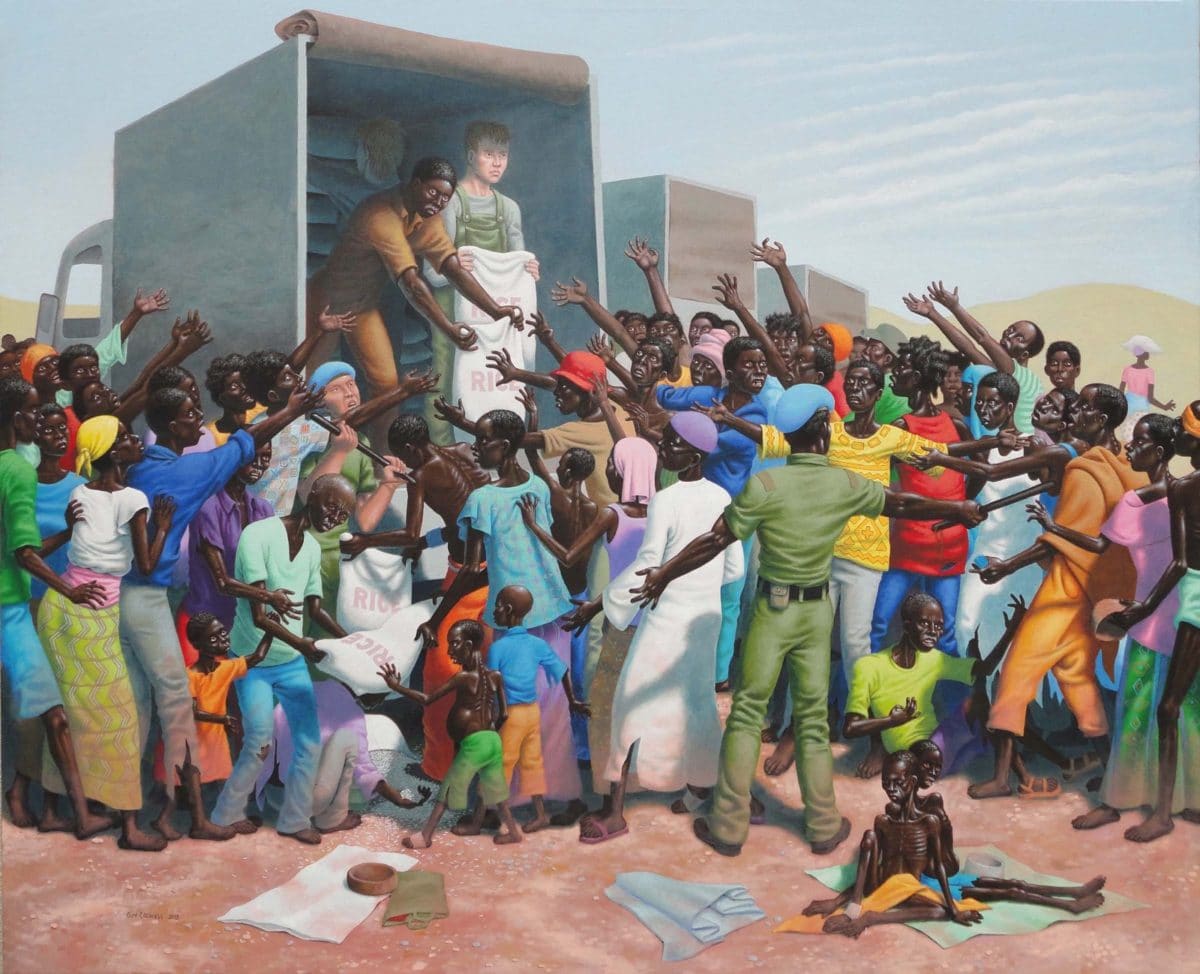 ---
At this point I began to get detached from the San Francisco art world. As my first marriage was coming to an end in 1985, and Rip Off Press moved into smaller and smaller work spaces, I decided to break away altogether. I read about and then joined the Great Peace March for Global Nuclear Disarmament. So, in early 1986, I left San Francisco, never to live there again, and became part of an awesome anti nuclear weapons event that began to add new dimensions to my artwork while rekindling a desire to travel. On the road during the march my work mostly consisted of pencil portraits of other marchers and organizing shows of marcher artwork. One drawing I did was turned into what I have always considered one of my best paintings, an oil on canvas, "Rebecca Knotting Bracelets."
At the end of this year long walk across the continent, I found work once again with Rip Off Press which had relocated to the Sierra foothills town of Auburn. I resumed doing my graphic art work for publications, did a lot of painting, authored another series of comics, Doll, and spent a great deal of time in the high Sierras hiking, camping, sketching and studying the natural world. I was engaged to do a series of natural history murals for the Placer Nature Center which motivated me to do a nature docent training and extensive research on the living things in those mountains. In Auburn some of my social realist scenes began to appear with natural landscapes in the background. "Park," "Blockade" and "Reasoning with Improbable Bird" were some of the best from this respite in the hills. A little later I brought some of this focus on nature to the Bay Area when I was
asked to paint a rainforest at the Oakland Zoo. By the time I returned to live in Berkeley once and for all in 1992, a wild nature element, that had not been there before, had entered my artwork to stay. This evolution was reinforced by more travels. Campsite trips through Italy and later from London to Athens and back, a camping safari through several southern African nations and a number of visits to North Africa brought my eyes and my sketchbook still closer to wild nature.
I loved painting nature and animal pictures but I was not content being only an animal painter. I was struck by a sense that as awesome and beautiful as the natural world can seem, we must always be to some degree alienated from it. That is a baseline human fact. The natural world is beautiful but deadly and voracious, and it won't be our friend. Keeping this reality in mind, the animals began to work their way into my social realism. Wild creatures appeared in my paintings as surprising visitors within human environments. The bemused, stunned or terrified looks on the faces of the humans as they encounter these strangers are meant to show how far we have separated ourselves from them. But I think we must also continue to love and protect them and, considering what we are doing to the planet, I have come to believe that nature and animal art is political realism just as much as gritty urban street scenes.
A bit of this concern about the alienation between us and the natural world has found its way into some of my comic art. While I have tried to start several comic book projects during the last couple of decades, the prospects for publication have been unfavorable so I've tended to put them aside. Except for one. A short graphic novel titled In Fox's Forest that I worked on, one panel at a time, to fight off boredom while on a job as an assistant manager at a video arcade, finally came to completion and made it into print some 15 years after it was begun. This talking animal story is about a fox trying to free himself from human captivity and explores the relationship between humans and the natural world. It was finally published by Fantagraphics in 2016.
---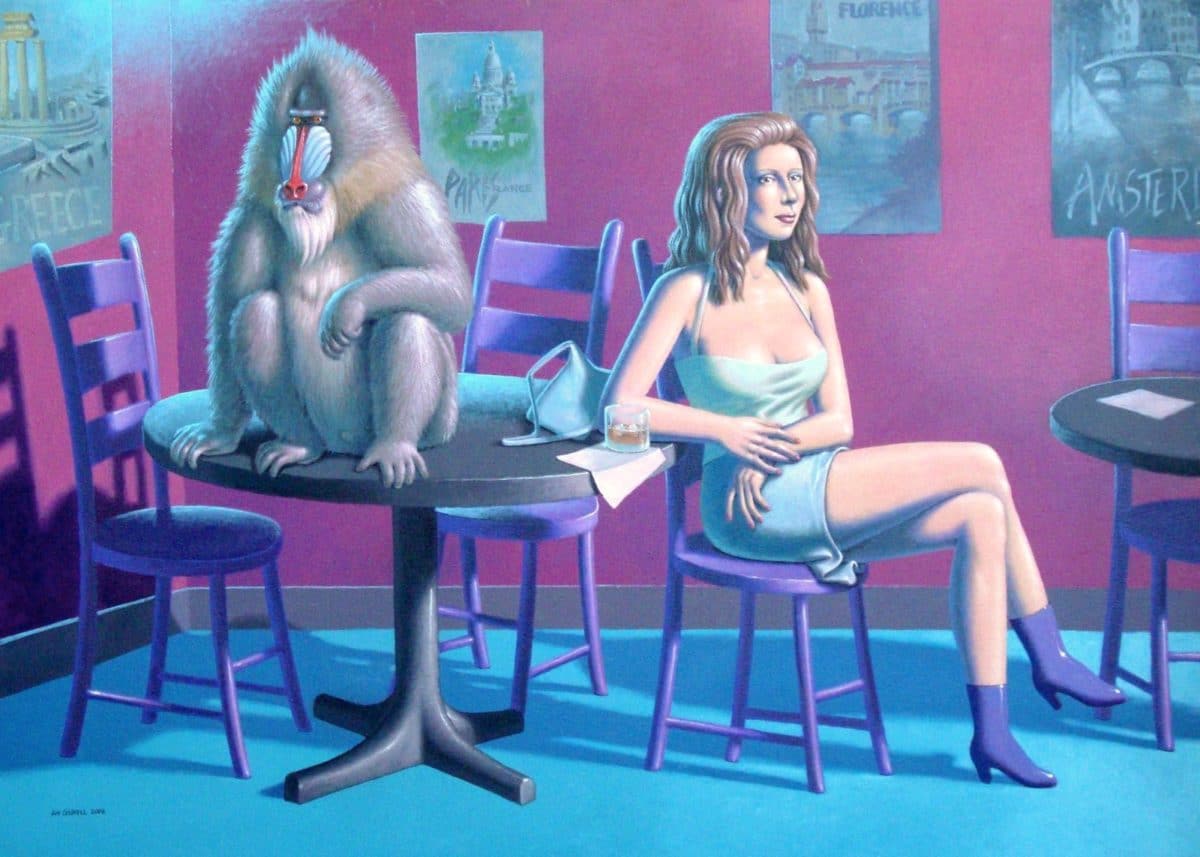 ---
Resettled back in Berkeley, remarried and working out of an excellent studio, for the past two decades I have been in a period of creative activity as productive as any other in my life. My work tends to be far outside the familiar and expected mainstream of visual art today. Most of it, as it has always been, is challenging, thought provoking and controversial. It is work that most people will be amazed to see and appreciate in a gallery or a museum but may not consider hanging in the living room. They are essays on contemporary reality rather than aesthetically pleasing decorations. The last time I had a gallery show in San Francisco, in fact, such a brouhaha arose over one of my paintings that it became international news. This was an image, titled "The Abuse," that was provoked by the Abu Ghraib photos of soldiers torturing detainees. Gallery windows were broken, the gallery owner assaulted and it was reported and discussed by newspapers and websites all over the world for a couple of weeks. It took 14 years since those events to finally be scheduled for a show again in a San Francisco gallery.
Not all my work causes this much stir. I have many new pictures that continue to explore the themes of social commentary and alienation from nature. With names like "Innocents on the Street", "Reception: Self Portrait with Mop", "Rebuild", "Aftermath", "Mellow Combo", "Dog Dragging Chair", "Institutional Warthog", "Painter with Genet" and many others, I have built an inventory that, when shown together, will be the strongest and most important show I've had in at least the last 30 years.
Today I work on this spectrum of interests doing what I have come to call Figurative Social Surrealism. This is sometimes straight ahead social commentary exploring issues of poverty and inequality in urban settings. Sometimes I paint or draw animals for themselves. Often I combine the two so I can look beyond the streets and buildings where I usually find myself and hold the whole world, human and natural, in my consciousness. I work in a variety of media including paintings, drawings, prints, miniatures, occasional murals and even coloring books with which I continue to explore this big Reality as I find it today.
---