Justyna Kisielewicz, Emily Burns & Melissa Arendt
111 Minna Gallery proudly presents our first exhibit of 2017 with Alone Together, which has been thoughtfully sourced by dynamically different creative individuals, Justyna Kisielewicz, Emily Burns and Melissa Arendt. The show is colorful, sensual, ironic, dreamy, challenging, thankful, arresting, daring and so much more!
---
---
---
Justyna Kisielewicz
, is a Polish native and a California based painter. Her paintings are cheeky, trendy cool and popping with clever and lively unexpected colors. Kisielewicz's paintings are filled with references to modern pop culture and inspired by the tradition of American and European aesthetics. She has been celebrated by international fashion and lifestyle magazines, as the "pop culture obsessed" "rebellious artist from Poland" and as the "princess of pop culture".Her artistic style and subject matter is non-repetitive, however, it is consistent and sexy. She freely uses inspirations, words and symbols that are subconsciously rooted in the eye of the viewer through culture. She is the master of color and sublime technical expression. Kisielewicz's work is uniquely self-referential and emotionally honest.
---
---
Justyna Kisielewicz received her MFA from the Academy of Fine Arts in Warsaw, Poland. Her work has been featured in Elle, Harper's Bazaar, Glamour, Business Insider, Juxatopoze, Supersonic Magazine and Paint Pulse Magazine. Kisielewicz's work has been the subject of exhibits in international galleries and museums in Warsaw, San Francisco, Sydney and Berlin. Her work has been presented at art fairs in Hamburg (Germany) and Maastricht (Netherlands). Most recently Kisielewicz's work has been acquired to fill the permanent collection of the National Museum in Gdansk, Poland.
---
---
In
Emily Burns
' current body of work, she incorporates traditional motifs from wallpaper and textile patterns, specifically examples that embody visually pleasing repetitions of benign, ambiguous motifs and pictograms such as flowers, hearts, arrows, and dots. Her process is heavily based in digital editing processes, the nature of which is integral to understanding image making in a digital age. By combining drawing with collage capabilities of computer software through the production of a hand-rendered, painted surface, she continues to test the balance of painting's relationship to technology and the importance of method and material in relation to the physicality of image as object.
---
---
Emily Burns is an artist, curator, and designer whose work has been exhibited internationally and across the United States. She has had recent solo exhibitions at Adventureland Gallery in Chicago, IL and the John Sloan Arts Center, at Lock Haven University, in Lock Haven, PA. Her work has been featured in group exhibitions at Trestle (Brooklyn, NY), The Lodge Gallery (New York), and John Molloy Gallery (New York), 24 Hour Charlie's (Los Angeles) and Galleri Urbane (Dallas) and 111 Minna Gallery (San Francisco). Her work has been featured in print publications including Four Magazine and Studio Visit, as well as online media such as Beautiful Decay, Hi-Fructose, and Juxtapoz. Designer and editor of the contemporary art publication Maake Magazine, she is currently pursuing an MFA in Graphic Design at The Pennsylvania State University.
---
---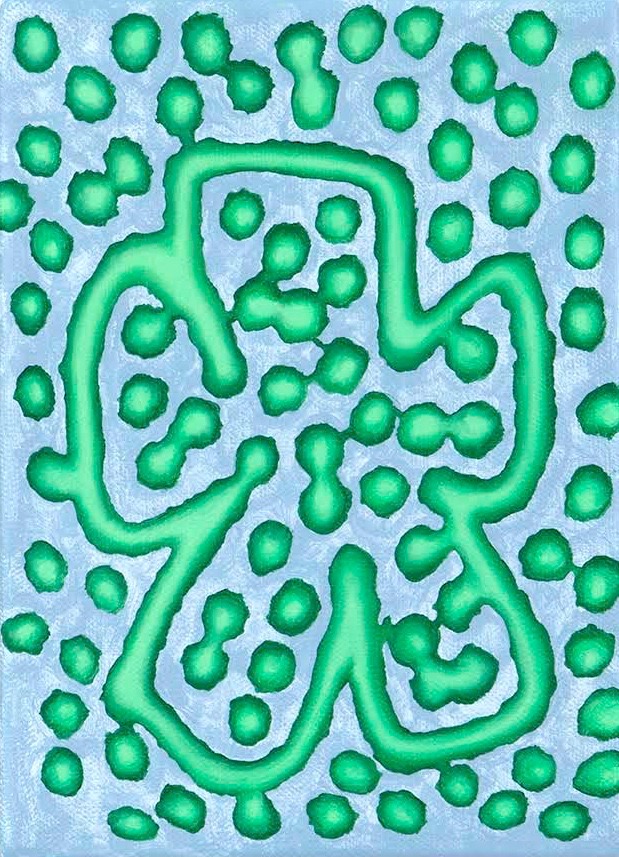 ---
Melissa Arendt | Artist Statement
Love spans a legion of bizarre and beautiful stages, and I've witnessed most. In my newest series, Sympathy for Madness, I explore the theme of love and focus on the triumphs and tribulations that are associated with these dramatic outpourings of feeling. To be romantic is to have a sympathy for madness. Within my circular "love montages," I incorporate fragments of expressive classical statues and figures, bold patterns and technically lined pencil drawings to communicate my observations and experiences regarding love and romance.
---
Melissa Arendt (b. 1984) is a California native, currently living in Auburn, CA. She studied graphic design at the Academy of Art University in San Francisco. As an illustrator, painter, graphic designer and art director, she is in a constant state of creation. Her work has been shown in galleries in San Francisco, New York City, New Hampshire and Sacramento as well as online galleries in Paris, Canada and New York City.
---
---