Sign Language | Terry Thompson Solo Show
November 2, 2018 @ 5:00 pm

-

11:00 pm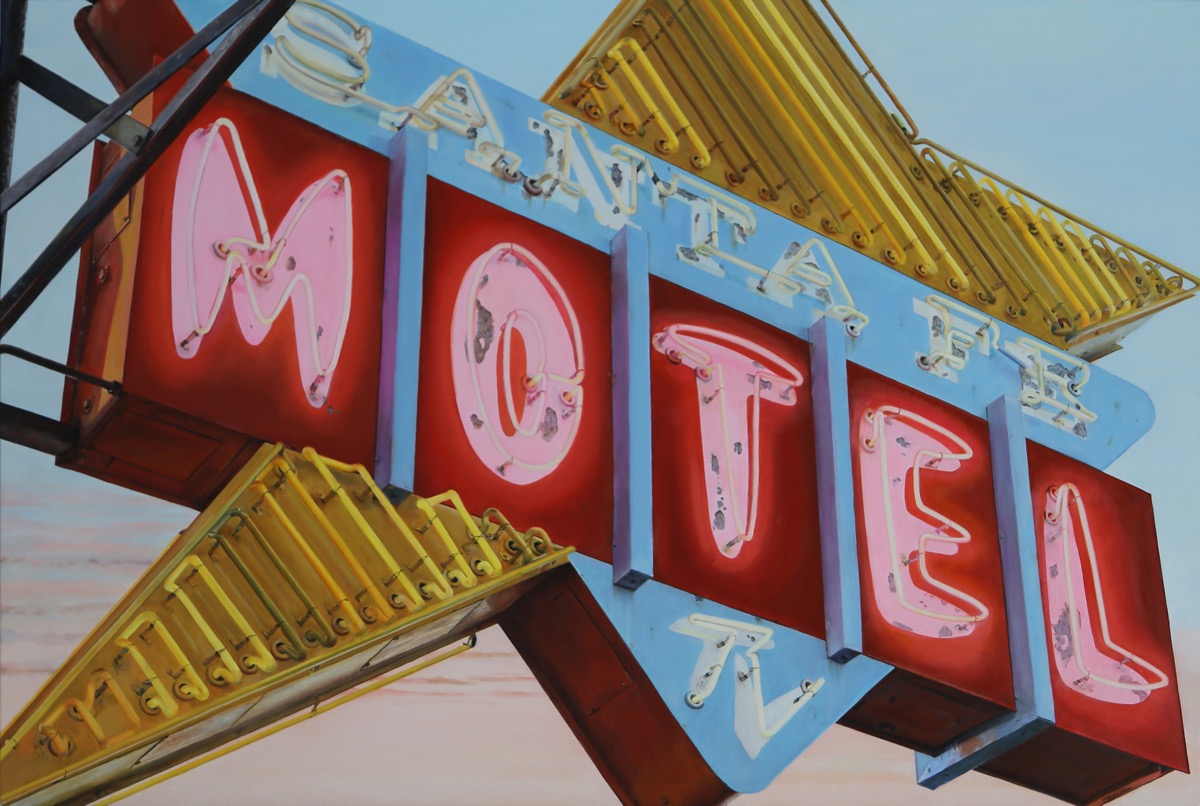 Terry Thompson lives and works in San Francisco. Born and raised in the South Bay, he received his MFA from San Jose State University after working for several years in the Silicon Valley as an equipment engineer for various high tech companies.

---
For nearly twenty years, he has focused primarily on paintings of old neon signs that have somehow avoided the wrecking ball—signs that have lived. Thompson sees these sculptural signs as historically and emotionally charged metaphors for unrelenting time. He strives to reveal the hidden beauty of these banal, rusty relics, by rendering them in oil paint.

Thompson also paints various "Pop" culture products that contain interesting typography and graphics on the packaging. Text is the common thread that runs through this work and most of his sign paintings. Terry also exhibits his photography. Even though his photographic work is often more abstract than his paintings, they relate because the subjects are typically derived from an urban landscape. Within Thompson's photographs he explores the interplay of form, color, pattern, and texture; and just as in his sign paintings, he tries to find beauty in the often-overlooked.
---
---
TERRY THOMPSON | CV
EDUCATION
2005 M.F.A. San Jose State University, (pictorial) San Jose, CA
2003 B.A. Studio Art, summa cum laude, San Jose State University, San Jose, CA
1995 B.S. Industrial Technology, (technical documentation) San Jose State University, San Jose, CA
SOLO EXHIBITIONS
2017 Words & Pictures, George Billis Gallery, Los Angeles, CA
2015 Cheap Eats & Dive Motels, George Billis Gallery, Los Angeles, CA 2013 Rich Text, George Billis Gallery, Los Angeles, CA
2011 Signs of Life, George Billis Gallery, Los Angeles, CA
Everything is Electrified, b. sakata garo, Sacramento, CA
2010 Recent Work, ArtZone 461 Gallery, San Francisco, CA
2009 New Paintings, George Billis Gallery, Los Angeles, CA
The Streets of San Francisco, Caffe' Museo, SF MOMA Artists Gallery
2007 Terry Thompson, George Billis Gallery, Los Angeles, CA
2006 Roadside Art, The California Museum for History, Women & the Arts, Sacramento, CA (Catalog)
Recent Work, b. sakata garo, Sacramento, CA
2005 Neon Nights, San Jose Institute of Contemporary Art, San Jose, CA
2004 New Work, Voshan Gallery, Palo Alto, CA
Recent Paintings, Voshan Gallery, Palo Alto, CA
2002 Cityscapes, d.p. fong galleries, San Jose, CA
SELECTED GROUP EXHIBITIONS
2018 Art Palm Springs, George Billis Gallery, Palm Springs, CA
SF ArtMarket, George Billis Gallery, CA
2017 Art Palm Springs, George Billis Gallery, Palm Springs, CA
SF ArtMarket, George Billis Gallery, Palm Springs, CA
2016 Palm Springs Fine Art Fair, George Billis Gallery, Palm Springs, CA
2015 Palm Springs Fine Art Fair, George Billis Gallery, Palm Springs, CA
2014 Red Dot Art Fair, George Billis Gallery, Miami, FL
Image Hungry, Gary Francis Gallery, Alameda, CA
2013 Cover to Cover: A Survey of Artist Members' Photo Books SF Camerawork, San Francisco, CA
2012 Three Artist Exhibition: SFMOMA Artists Gallery, San Francisco, CA Contemporary Realism Biennial 2012, Fort Wayne Museum of Art, Fort Wayne, IN (Catalog) San Francisco Fine Art Fair, George Billis Gallery, Fort Mason Center, SF, CA
Chain Reaction, Artists Consider the Bicycle, de Saisset Museum, Santa Clara University, SC,CA
The 4 Day Show, SFMOMA Artists Gallery, Ft. Mason Center, San Francisco, CA
San Francisco Fine Art Fair, George Billis Gallery, Ft. Mason Center, SF, CA 16 @ 49, ModernBook Gallery, San Francisco, CA (photography)
2010 San Francisco Fine Art Fair, Ft. Mason Center, San Francisco, CA
Contemporary American Realism, Fort Wayne Museum of Art, Fort Wayne, IN (Catalog)
The Seduction of Duchamp, Los Gatos Art Museum, Los Gatos, CA (Catalog)
The Seduction of Duchamp – Bay Area Artists' Response, 461 Gallery, San Francisco, CA
2009 Los Angeles Art Show (George Billis) L.A., CA A Sense of Place, de Saisset Museum, Santa Clara University, Santa Clara, CA
Environments (photographs) Louie Meager Art Gallery, Ohlone College, Fremont CA (Catalog)
2008 Contemporary American Realism: 2008 Biennial, Fort Wayne Museum of Art, IN (Catalog)
City Light- A Cityscape Group Show, George Billis Gallery, New York, NY
Building a Team: 11th Annual Art of Baseball Exhibition, George Krevsky Gallery, San Francisco, CA
Los Angeles Art Show (George Billis), Santa Monica, CA
2007 Friends and Artists, b. sakata garo, Sacramento, CA
San Francisco Scenes, George Krevsky Gallery, San Francisco, CA
Pop Realism, George Billis Gallery, L.A. CA
Red Dot Art Fair (George Billis), New York, NY
City Life, SFMOMA Artists Gallery, San Francisco, CA
2006 The Last Picture Show, F8 Fine Art Gallery, Austin, Texas
ICA 26th Annual Fall Art Auction, Institute of Contemporary Art, San Jose, CA
Lift Off, SJSU MFA Graduates, San Jose Institute of Contemporary Art, San Jose, CA
2005 New California Masters, WORKS Gallery San Jose, CA (statewide, juried)
Fresh Strokes, Heritage Fine Arts Collaborative, San Jose, CA
2004 ICA 24th Annual Fall Art Auction, Institute of Contemporary Art, San Jose, CA
Introductions 2004, b. sakata garo, Sacramento, CA (Catalog)Landscapes & Cityscapes, d.p. fong Galleries, San Jose, CA
2003 Art Bowl III – Juried Northern Cal. M.F.A. Exhibition, b. sakata garo, Sacramento, CA
Los Gatos Art Association Juried Show, Los Gatos Art Museum, Los Gatos, California
2002 Current SJSU Faculty and Student Work, Heritage Fine Arts Collaborative, San Jose, CA
Los Gatos Art Association Juried Show, Los Gatos Art Museum, Los Gatos, CA
WORKS 25th Anniversary Members Show, WORKS Gallery, San Jose, CA
---
---
HONORS AND AWARDS
2008 Honorable Mention, Contemporary American Realism: 2008 Biennial, Fort Wayne Museum of Art, IN
2005 Violet Speddy Scholarship, San Jose State University
2004 Catherine Urban Scholarship, SJSU
2003 Helen Dooley Scholarship, SJSU • Randall Sadler Scholarship, SJSU
COMMISSIONS
Red Car Wines, L.A., CA • San Jose Jazz Society, San Jose, CA • Los Gatos Chamber of Commerce, Los Gatos, CA • IBM Corporation, San Jose, CA
TEACHING EXPERIENCE
2004-05 Instructor – San Jose State University, School of Art & Design, San Jose, CA
2003-04 Teaching Assistant – Rupert Garcia, Tony May – SJSU
2005 & 07 Invited Lecturer – San Jose Art History Club
BIBLIOGRAPHY Bromwich, Kathryn. "A Homage to Neon Signs – in Pictures." The London Observer. Guardian News and Media Limited, 28 May 2017. Web. 28 May 2017.
Krysa, Danielle. "Terry Thompson." Web blog post. The Jealous Curator., 10 May, 2017.
Introspective Magazine, Mendelsohn, Meredith, 13 Ways of Looking at an Artwork this Season
www.1stdibs.com/introspective-magazine/13-art-shows-fall-2017/
Evans, Kate. "Finding Beauty in San Jose's Fading Relics of the Past." Content Magazine issue 8.1 21- 23. Silicon Valley Creates. May/June 2016.
Hernandez, Jo Farb. A Celebration of 100 Years of the Department of Art. San Jose, SJSU Art Dept. 2013. Print
Contemporary Realism Biennial 2012, Fort Wayne Museum of Art, Fort Wayne, IN (Aug., 2012) Lamson, Eliza, Chain Reaction & Clunker to MTBs, Metro Newspaper (9 May, 2012)
"Review of Reviews." The Week 3, June, 2011, p 25. Contemporary Realism Biennial 2010, Fort Wayne Museum of Art, Fort Wayne, IN (Sept., 2010) Environments – Photographs by Bay Area Art Educators, Ohlone College, Fremont CA Rose, Joshua, "Banal Beauty" – American Art Collector (July, 2009) Contemporary American Realism: 2008 Biennial, Essays by Annette Blaugrund and Donald Kuspit, Fort Wayne Museum of Art, Fort Wayne, IN (Sept., 2008)
Elliott, Amy, "January Art Fair Preview" American Art Collector (January, 2008)
Rose, Joshua, "Signs of the Times" American Art Collector (July, 2007)
Dalkey, Victoria, "Critic's Pick" Sacramento Bee (March 24, 2006)
Swanson, Ben, et al, The Santa Clara Review – Volume 93, no.1 2006, Santa Clara University
White, Tim, "Urban Images" Sacramento News & Reviews (July 22, 2004)
Gant, Michael S., "Neon Notions," Metro Newspaper (22 August, 2002)
FILM
2008 Opal – Reflective Films, stop motion animation drawing sequence.
PUBLIC COLLECTIONS
Crocker Art Museum, Sacramento, CASan Jose Museum of Art, San Jose, CA
California Museum, Sacramento, CA
Nevada Museum of Art, Reno, NV
Fort Wayne Museum of Art, Fort Wayne, INDe Saisset Museum of Art, Santa Clara University, Santa Clara, CA Museum of Art, University of Alabama, Tuscaloosa, AL
Metro Newspaper, San Jose, CA
IBM Corp., San Jose, CAVISA Inc., San Francisco, CA
---