Dr. Sketchy's SF Presents Cobra 1st Legion!
November 13, 2017 @ 7:00 pm

-

10:00 pm

$12 – $15
Event Navigation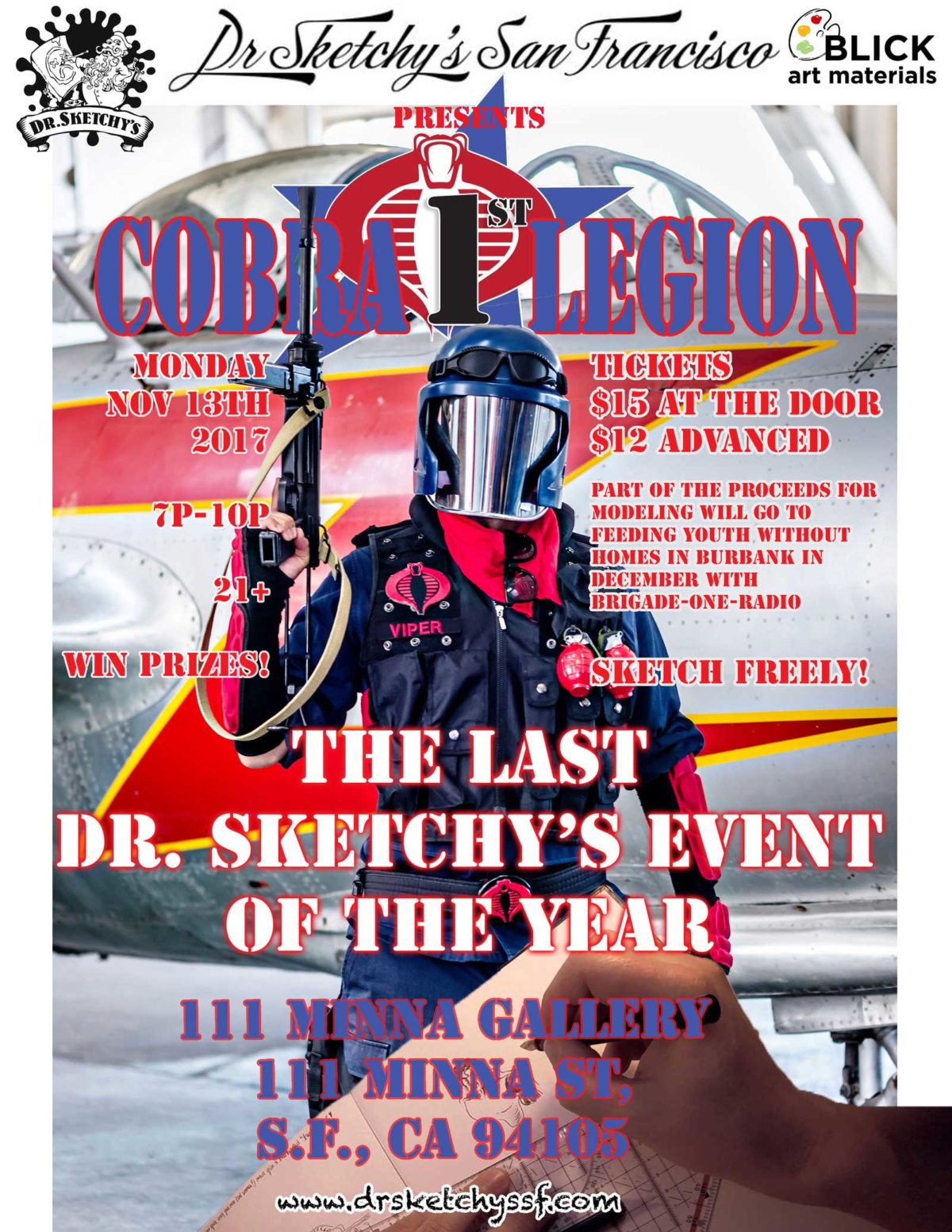 YO JOE! all you sketchy folks!
I'm excited to announce that for our November event, we will be welcoming back the Cobra 1st Legion to the Dr. Sketchy's stage for the first time since 2013! Featured for our LAST EVENT OF 2017 will be four models as popular G.I. Joe villains Cobra Commander, Viper, Firefly and The Baroness! With a possibility of a few more participants:)
Part of the proceeds from this evening will be going to feeding Youth Without Homes in Burbank when the Cobra 1st Legion head down in December with Brigade-One-Radio! So grab your sketching materials, get stoked, and get ready to draw the dastardly devils of COBRA!……..and maybe a few of those real American heroes from G.I. JOE!
If you're unfamiliar with our models for this evening, the Cobra 1st Legion is a G.I. Joe themed costume/charity group founded in the bay in 2012. They conduct costumed photo-shoots at locations such as the USS Hornet Aircraft Carrier, Alcatraz prison and inside the USS Pampanito submarine. They have donated thousands of dollars worth of toys to the Children's Hospital of Oakland, conducted food drives for the Alameda County Community Food Bank and organize beach clean ups along the bay. Cobra 1st started in Berkeley and has grown to over 300 members in 11 countries.
MONDAY, November 13th, 2017
7pm-10pm, 21+
$12 in advance, $15 at door (cash only)
BYOAS (Bring your own art supplies)
What is Dr Sketchy's Anti-Art School?
http://drsketchyssf.com
Since 2005, Dr. Sketchy's has been the name in alternative drawing. From illegal flashmobs to the Museum of Modern Art, Dr. Sketchy's has brought artists a rule-breaking cocktail of dames, drinking and drawing. Dr. Sketchy's branches draw in over a hundred cities around the globe, from Akron to Zagreb. Whether you're an artstar or a scribbling newbie, Dr. Sketchy's is the perfect place to get your fill of life-drawing.
Dr. Sketchy's is the brainchild of artist Molly Crabapple.
In San Francisco, we have a strong commitment to community. We believe that making art is about finding a great place to practice, with a community of like-minded folks. We celebrate our sometimes indescribable and important local culture. We get excited about our models and we hope that our excitement inspires the artists who attend.
FB: https://www.facebook.com/events/549284088746629